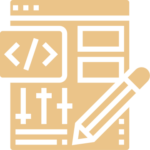 Senior Frontend Developer
Mechatronic Group represents group of companies in automotive, technology and real estate, headquartered in 455 Signet Drive, North York, ON, Canada.
At Technology and Innovation department, one of our main goals is transformation in automation through safe, all-electric and autonomous development of manned and unmanned aerial vehicles (UAV and EVTOL). We have a passionate team working hard together to build a future by solving high-impact problems.
We are looking for a Senior Frontend Developer to join our team for an on-sight work. Your goal would developing and maintaining interface and productivity tools for testing, visualization and data analysis. If you are a curious, motivated and collaborative individual interested in being part of the air mobility future, consider applying for this position!
Develop feature-rich and user-friendly interfaces on web and on desktop
Improve and optimize applications 
Define and design standards for front-end development of the company 
Develop high quality technical documents 
Help and assist backend developers in coding, testing and troubleshooting
Ensure high quality graphics and brand consistency in designs
B.S or higher in Computer Science, Robotic Engineering, Electrical Engineering or equivalent
Work experience as frontend developer
Experience in HTML, CSS and JavaScript
Experience in Java 
Experience with React, Angular or other frameworks
Familiarity with UI/UX
Familiarity with software such as Adobe Suite, Photoshop, etc. 
Ability to work in team
Accuracy and attention to detail
A calm and professional manner
Competitive salary with benefits depending on your qualifications and degree
Travelling opportunity to attend work events and networking 
Extreme growth opportunity along side of the company 
Free, discounted, or at-cost services for various professions covered in  Mechatronic-Group company (including but not limited to: Automotive repair, car rental,  real-estate consultation, etc.)
Free parking at workplace
Flexible hours and vacations time
Additional training and development